Homeland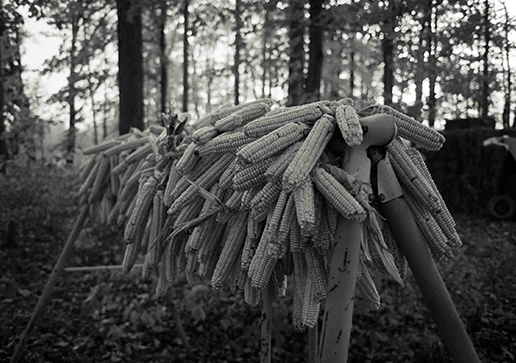 Click on anchor points to view corresponding panel and title. You can move the map around by clicking and dragging. View a larger version of the map by clicking on the [  ] brackets on the top right of the map.


1. White Corn (2014/2017) pigment print on archival paper
KEY TO IMAGES (left to right)
Jeff Thomas, Emily General (1985) the old homestead, Smoothtown, Six Nations of the Grand River, GPS: 43.01945 -80.08303
Emily General is my great-aunt and sister to my step-grandfather Bert General. Emily was instrumental in helping me define my sense of place as an urban Iroquoian. When I entered university in 1975 she gave me her copy of the handwritten story of the Peacemaker and his journey to bring peace to the warring Iroquois tribes in present-day New York State. Emily told me I could not use a photocopy machine, I had to make my own hand-written copy of the 1900 document. I did and it has been instrumental for my development as a visual artist and curator.
Jeff Thomas, Old Chair outside Emily General's kitchen door (1985) Six Nations of the Grand River, Ontario, GPS: 43.01945 -80.08303
I photographed the old chair sitting outside of Emily's kitchen door because it reminded me of the times I sat at the kitchen, listening to my elders tell stories about the old days, gossip, the price of farm animals, etc. I thought that might be last visit to the farm and I wanted something to remember them by.
Jeff Thomas, Drying white corn braided by Bert General (1990) Six Nations of the Grand River, Ontario, GPS: 43.018067 -80.08955
Francis Knowles, Chief Jacob General (1912) Six Nations of the Grand River, Canadian Museum of History, GPS: 43.018067 -80.08955


2. Cold City Frieze (2010/2015) pigment print on archival paper, 40″ x 120″
KEY TO IMAGES (left to right):

Jeff Thomas, Chief Red Jacket monument, Forest Lawn Cemetery (1997) Buffalo, New York, GPS: 42.92315 -78.8663
Jeff Thomas, Joseph Brant monument (1997) Brantford, Ontario, GPS: 45.4243 -75.694917
Jeff Thomas, Onondaga Chief Big Sky plaque (1997) Buffalo, New York, GPS: 42.829767 -78.773417
Jeff Thomas, IROQUOIS (1998) Place d' Armes, Montreal, Quebec, GPS: 45.50485 -73.557667
Jeff Thomas, Point of View (2015) Pittsburgh, Pennsylvania, GPS: 40.4391 -80.021367

3. Tailgate Family Portrait (2017) pigment print on archival paper
KEY TO IMAGES (left to right):

Frank M. Pebbles (American, 1839-1928), Dr. Oronhyatekha (1841-1907), Royal Ontario Museum, ROM2008_10224_1, GPS: 43.6677 -79.39477
Jeff Thomas, Clara Thomas (my grandmother), Martin Thomas (my Father), Bear, Cleve, Levi and Spenser Thomas (1990) Six Nations of the Grand River, Ontario, GPS: 43.018067 -80.08955


4. My Father Was a Factory Maintenance Painter (2012) pigment print on archival paper, 23″ x 84″
KEY TO IMAGES (left to right):
Jeff Thomas, George Catlin's The North American Indians (1926) Royal Ontario Museum, Ontario, GPS: 43.6677 -79.39477
Jeff Thomas, frontispiece, George Catlin's The North American Indians (1926) "The Author painting a Chief [Mah-to-toh-pa] the base of the Rocky Mountains," Royal Ontario Museum, Ontario, GPS: 43.6677 -79.39477
Jeff Thomas, My Father's Hand (1989) Six Nations Reserve, Smoothtown, GPS: 43.018067 -80.08955


5. Cultural Revolution Today (2016) pigment print on archival paper, 17″ x 22″
KEY TO IMAGES (left to right):
Jeff Thomas, Culture Revolution Today (1984) Toronto, Ontario, GPS: 43.6493 -79.393967
Jeff Thomas, Culture Revolution Today (1984) Toronto, Ontario, GPS: 43.6493 -79.393967
Edward S. Curtis, Two Moons (Cheyenne) (c. 1910) courtesy of Library and Archives Canada/C-019769, "The North American Indian" – portfolio 6 plate no. 213


6. Happy Father's Day (2015/ 2016) pigment print on archival paper, 30" x 59"
KEY TO IMAGES (left to right)
Jeff Thomas, Bear, Braids and Pendleton Coat (1979) Buffalo, New York, Cottage and Maryland, Buffalo, New York, GPS: 42.8977 -78.88088
Nichols de Grandmaison, Unidentified Blackfoot Boy (n.d) Lethbridge, Alberta, GPS: 49.67761 -112.86014, Courtesy of the University of Lethbridge Art Gallery/4307
Jeff Thomas, Bear Witness – Slow Bull Revealed (1992) Queen Street West alley, Toronto, Ontario
Jeff Thomas, Bear Witness, Three Pawnee Men Revealed (1993) Belleville, Ontario, GPS: 44.151033 -77.3882
Nicholas De Grandmaison, Riding at the Door (Blood First Nation) (Itsoksi ksisto kitopi) (1948) Lethbridge, Alberta, GPS: 49.67761 -112.86014, Courtesy of the University of Lethbridge Art Gallery /19. 2012.19

View the other Portfolios from this series:
HOMELAND
STRONG HEARTS: MY JOURNEY WITH BIRDMAN
REBINDING THE NORTH AMERICAN INDIAN
THE EUROPEANIZATION OF TURTLE ISLAND