Photo-based Artist & Independent Curator

I am an urban-Iroquois. You won't find a definition for 'urban Iroquois' in any dictionary or anthropological publication - it is this absence that informs my work as a photo-based artist, researcher, independent curator, cultural analyst and public speaker. My study of Indian-ness seeks to create an image bank of my urban-Iroquois experience, as well as re-contextualize historical images of First Nations people for a contemporary audience.
The First Spike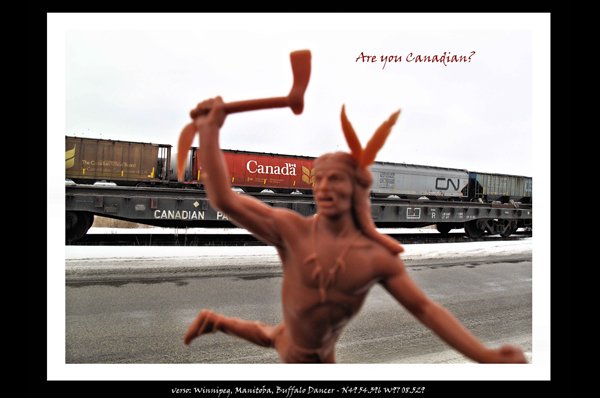 The First Spike series began in 2006 while I was riding the VIA train from Ottawa to Toronto and caught a glimpse of some of trains sitting trackside. On the way back to Ottawa I made sure to note the site and its location in the town of Brighton, Ontario. Later, I visited the town and its small railway museum called Memory Junction. I posed one of my miniature Indian figurines in front of the caboose with the words "Memory Junction" painted on its side.
When I saw the print and the juxtaposition of the Indian figure with the lettering on the caboose, the first thing that came to mind was: What role did Indigenous people play in railroad history? This was the beginning of a new project—a combination of historical research and photographing contemporary railroad sites across Canada. My objective is to inspire a conversation about historical narratives that extol nation building yet leave out stories of indigenous people who were "in the way" of the transcontinental railroad route and how badly they had suffered.

View the other Portfolios from this series:
MY NORTH AMERICAN INDIAN VOLUME 21
MY NORTH AMERICAN INDIAN VOLUME 22