A NECESSARY FICTION AT THE UNIVERSITY OF LETHBRIDGE, ALBERTA: Entry 3 An encounter with a Pre-Contact shell gorget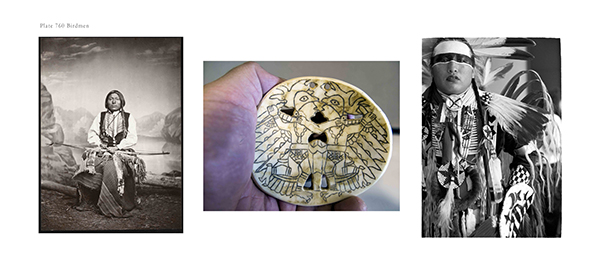 Engaging the archive with new encounters from The University of South Missouri
A new panel completed for my exhibition. It is a result of my spring road trip to St. Louis. An incised shell with a birdman figure I photographed at Southern Illinois University Edwardsville.
Left: William S. Soule, 1836-1908, Young Kiowa Man in War Dress, taken between 1867 and 1874, Fort Sill, Indian Territory (now the state of Oklahoma). Fort Sill was a military headquarters and an agency for several tribes, including the Kiowa, Wichita, and Comanche. National Anthropological Archives, Smithsonian Museum, NAA INV 01625301
Centre: Jeff Thomas, Shell gorget with incised Birdman symbol, 2015, Courtesy of The University Museum at Southern Illinois University Edwardsville/N38 47.008 W89 59.242
Right: Jeff Thomas, Michael White Eyes, Lakota, 1991, Winnipeg, Manitoba, N49 53.299 W97 08.689

This post is part of a series about the image panels selected to be exhibited in "A Necessary Fiction: My Conversation with Nicholas de Grandmaison" taking place at the University of Lethbridge Alberta Art Gallery from September 17 to October 29, 2015.