A NECESSARY FICTION AT THE UNIVERSITY OF LETHBRIDGE, ALBERTA: Entry 5 Some Things Never Change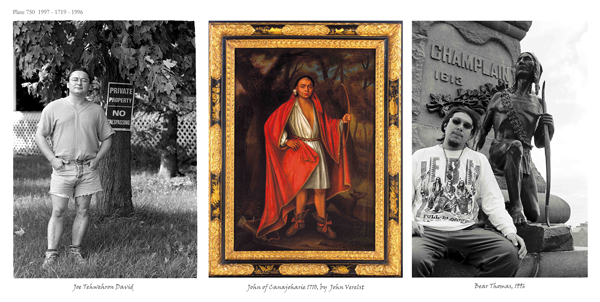 Thinking about Joseph Tehwehron David and the Four Indian Kings
The print I am adding today "Some Things Never Change" is an updated print I have in my Four Indian Kings series. In the original version I had a portrait of Joe David paired with one of the Four Indian Kings, and the one paring in the series that had an uncanny resemblance to one another.
A veteran of the OKA Crisis and noted artist, I met Joe around 1997, when I accompanied a German curator making the rounds with Haudenosaunee artists. My role was producing portraits for the exhibition catalogue. It was the first time I met Joe and I felt a bond with him right away. One of those intangible meetings that is difficult putting into words. When I heard about Joe's death, I pulled the portrait out of the series.
I suppose it was more out of respect than anything else; but once again, it is hard putting my reason into words. But a chance encounter while researching the Four Indian Kings on the Internet, led to a web site that had the original print with Joe. I decided it was time to renew the original and I made it into a three panel presentation for my new exhibition. It feels right having Joe's presence in my exhibition.
Plate 750, Some Things Never Change, 2007 (updated 2015), pigment print on archival paper
Left: Jeff Thomas, Joseph Tehwehron David (1957–2004), 1997, Mohawk, artist, and veteran of the 1990 Oka Crisis
Centre: John Verelst, John of Canajoharie, Mohawk, 1710. Courtesy of Library and Archives Canada/C-092417
Right: Jeff Thomas, Bear Thomas, 1996, Ottawa, Ontario, Samuel de Champlain Monument, N45 25.764 W75 42.087

This post is part of a series about the image panels selected to be exhibited in "A Necessary Fiction: My Conversation with Nicholas de Grandmaison" taking place at the University of Lethbridge Alberta Art Gallery from September 17 to October 29, 2015.