A NECESSARY FICTION AT THE UNIVERSITY OF LETHBRIDGE, ALBERTA: Entry 2 Birdman and Earth Mound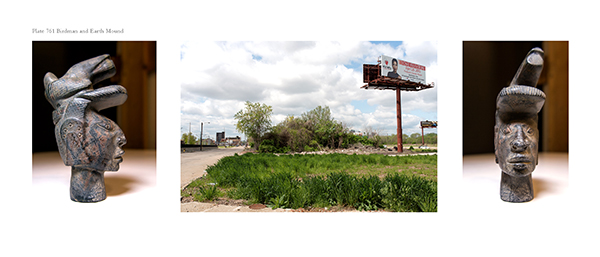 Road Trip to St. Louis, Missouri to rediscover Mississippian Pre-Contact Culture
The images for this new panel "Birdman and Earth Mound" were produced during my spring road trip to the St. Louis area. I was invited to speak at the University of Southern Illinois Edwardsville by Dr. Cory Willmott. The University also has a large collection of Mississippian objects, where I found this beautifully crafted figure. I felt it is a Birdman.
The clump of grass and brush on the street in East St. Louis actually hides an ancient Mississippian earth mound. I was very fortunate to get a guided drive-by tour of obscure earth mounds by Suzanne Kutterer-Siburt who is leading a group determined to gain national recognition and preservation of these earth mounds.
It will be placed with "Who was Medicine Crow" for my Lethbridge exhibition.

This post is part of a series about the image panels selected to be exhibited in "A Necessary Fiction: My Conversation with Nicholas de Grandmaison" taking place at the University of Lethbridge Alberta Art Gallery from September 17 to October 29, 2015.