Photo-based Artist & Independent Curator

I am an urban-Iroquois. You won't find a definition for 'urban Iroquois' in any dictionary or anthropological publication - it is this absence that informs my work as a photo-based artist, researcher, independent curator, cultural analyst and public speaker. My study of Indian-ness seeks to create an image bank of my urban-Iroquois experience, as well as re-contextualize historical images of First Nations people for a contemporary audience.
NEW WORK FOR LUMINATO: "Imposition of Order" installed at the St. Lawrence Centre Toronto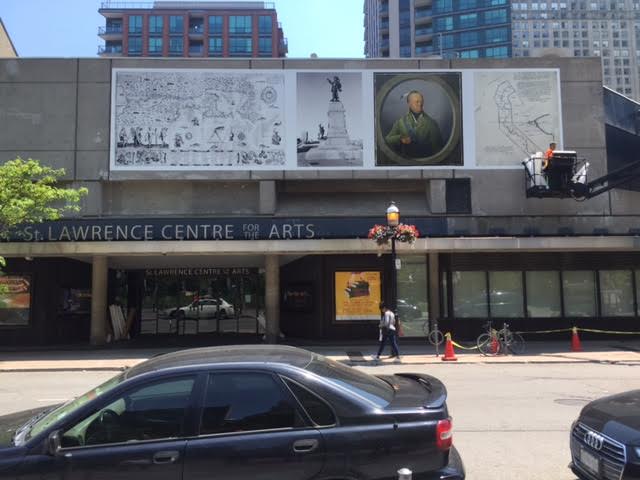 As part of the Art Gallery of Ontario's (AGO) Every. Now. Then: Reframing Nationhood exhibit and in collaboration with LUMINATO Festival the AGO commissioned a new work to be installed on the facade of the St. Lawrence Centre for the Arts at 27 Front Street East in Toronto. The installation opened for Luminato but will run remain in location until September 30, 2017.
Every. Now. Then: Reframing Nationhood opens June 29, 2017.
From the LUMINATO website: 
Jeff Thomas's composite photo work Imposition of Order was commissioned for the Art Gallery of Ontario exhibition Every. Now. Then: Reframing Nationhood (curated by Andrew Hunter, Fredrik S. Eaton Curator, Canadian Art, AGO, June 2017 – February, 2018). The work combines four significant images: Samuel de Champlain's map of New France (1612), The Champlain monument in Ottawa, William Berczy's Portrait of Thayendanegea or Joseph Brant (the Mohawk war chief who led the Haudenosaunee Confederacy to fight with the British during the American Revolution); The Haldimand Tract map defining the territory along the Grand River granted to the Haudenosaunee Confederacy in recognition of their service. The Haldimand Tract defined a twelve-mile wide area along the entire length of the Grand River, equaling about 950,000 acres. Today, only 48,000 acres remains of this original grant with much of the tract now occupied by settlers. Mounted to the front of the St. Lawrence Centre, Imposition of Order faces Berczy Park, named for the artist who produced several compelling portraits of Thayendanegea (Joseph Brant). This portrait is from The Thomson Collection at AGO.

2 responses to "NEW WORK FOR LUMINATO: "Imposition of Order" installed at the St. Lawrence Centre Toronto"